Partners for Fish and Wildlife
Provide technical and financial assistance to private landowners and Native American Tribes interested in voluntarily restoring or otherwise improving native habitats for fish and wildlife on their lands.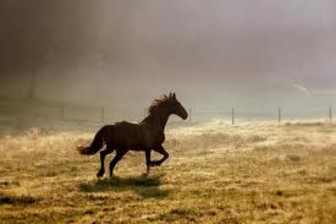 credit: Flickr
Related ProgramsExamples of Funded Projects
Typical wetland restoration and enhancement techniques involve restoring the natural hydrology of a site through the blocking of surface ditches, breaking sub-surface drain tiles, building shallow berms to trap water, filling in concentration pits, removing eroded sediment which fills in basins, installing grass buffers, or installing fences along wetlands or stream corridors that prevent cattle grazing within the stream or wetland.

Other wetland enhancement activities include working with the landowners to better manage the wetlands through the use of grazing, haying, discing, and burning.

Upland restoration and enhancement and riparian areas are restored and enhanced through re-seeding or planting native grass, forbs, woody shrubs and trees.

The installation of cross fencing along with providing alternative sources of water, assist landowners develop grassland/grazing management plans that have greater benefits for wildlife.

Removing barriers to fish migration and using natural channel design techniques is the main focus of the Partners Program in-stream restoration work.

Riparian fencing and improved grazing systems compliments stream restoration work.
---
Agency -
Department of the Interior
The Department of the Interior protects and provides access to the Nation's natural and cultural heritage, including responsibilities to Indian tribes and island communities. Departmental goals include resource protection and usage, overseeing recreational opportunities, serving communities and excellence in management.
Office - See http://www.fws.gov/partners for addresses and contact information.
---
Relevant Nonprofit Program Categories
---
Program Accomplishments
In Fiscal Year 2007, the Partners Program helped restore or enhance an estimated: 91,000 acres of wetlands; 420,000 acres of native grasslands and other uplands; 600 miles of riparian corridors, streambanks and in-stream habitats; and 140 fish passage barriers. This was accomplished using 1,850 landowner agreements for fish and wildlife habitat restoration on private lands.
Uses and Use Restrictions
Assistance provided to private landowners (defined to include individuals, local governments, non-government organizations) and Native American Tribes.

Program goal is to achieve a 50 percent cost share on projects with matching funds and in-kind contributions provided by the landowners and other partners.
Eligibility Requirements
Applicant Eligibility
Projects must be located on private lands.

Private land is defined by the Partners for Fish and Wildlife Act of 2006, 16 U.S.C.

3771-3774, as any land this is not owned by the Federal Government or a State.

Private land includes tribal land and Hawian homeland.

Private landowners, Tribal Governments, local governments, educational institutions and organizations are eligible for financial and technical assistance from the Partners for Fish and Wildlife Program.
Beneficiary Eligibility
Private landowners, Tribal Governments, local governments, educational institutions and organizations and the general public.
Credentials/Documentation
None.
Aplication and Award Process
Preapplication Coordination
None.

This program is excluded from coverage under E.O.

12372.
Application Procedures
The local Partners for Fish and Wildlife Program Coordinator works with private landowners and makes a site visit to design a project that will benefit Federal trust resources and is acceptable for the landowner's needs. Contact the appropriate Partners for Fish and Wildlife Program Office for application procedures. Information is also available at http://www.grants.gov.
Award Procedures
After a project has been designed and the cost calculated, the local Partners Program coordinator will be able to inform the private landowner whether or not the Service will provide cost-share assistance. When the landowner has signed a cooperative agreement (a minimum of 10 years) work can begin on the project. The Service reimburses the landowner after the project is completed.
Deadlines
None.
Authorization
Partners for Fish and Wildlife Act of 2006, 16 U.S.C. 3771-3774; Fish and Wildlife Act of 1956; 16 U.S.C. 742a-c, 742e-j; Fish and Wildlife Coordination Act of 1958, 16 U.S.C. 661-667(e).
Range of Approval/Disapproval Time
None.
Appeals
None.
Renewals
Not applicable. Private landowners may request additional projects on their lands.
Assistance Considerations
Formula and Matching Requirements
This program has no statutory formula. The Program goal is to obtain a 50 percent match of Federal monies by partnering with landowners, local community groups and other local and national conservation organizations.
Length and Time Phasing of Assistance
Cost-share is a one time event that occurs after project construction.
Post Assistance Requirements
Reports
Reporting requirements are stated in each cooperative agreement.

Contact the appropriate Partners for Fish and Wildlife Program Office for additional information and specific requirements.

Detailed biological reports are prepared on a percentage of projects funded.

All projects are monitored for accurate construction.
Audits
In accordance with the provisions of OMB Circular No. A-133, "Audits of States, Local Governments, and Nonprofit Organizations,"nonfederal entities that receive financial assistance of $500,000 or more in Federal awards will have a single or a program-specific audit conducted for that year. Nonfederal entities that expend less than $500,000 a year in Federal awards are exempt from Federal audit requirements for that year, except as noted in Circular No. A-133.
Records
Accomplishments are recorded for each project in the Habitat Information Tracking System (HabITS). HabITS tracks habitat improvement accomplishments and program-specific technical assistance workloads associated with the Coastal Program and Partners for Fish and Wildlife Program.
Financial Information
Account Identification
14-1611-0-1-303.
Obigations
FY 07 $42,660,000; FY 08 $42,600,000; and FY 09 est $42,000,000.
Range and Average of Financial Assistance
Cost-share range per project is from $200 to $25,000. The average cost per project is $5,400.
Regulations, Guidelines, and Literature
For information about Program policy and guidelines see the Partners for Fish and Wildlife Program Management Policy in the Fish and Wildlife Service Manual, 640 FW1 (at http://www.fws.gov/policy/640fw1.html).
Information Contacts
Regional or Local Office
See http://www.fws.gov/partners for addresses and contact information.
Headquarters Office
Chief, Branch of Habitat Restoration, Fish and Wildlife Service, Department of the Interior, 4401 N. Fairfax Drive, Room 750, Arlington, VA 22203. Telephone: (703)358-2201. Use the same number for FTS. Fax: (703)358-2232.
Criteria for Selecting Proposals
In general, projects must benefit Federal trust species, involve on-the-ground habitat restoration, and be cost-effective. Specific criteria for reviewing and ranking projects were established in the national Partners policy, at http://www.fws.gov/policy/640fw1.html. The program gives high priority to proposed projects that benefit the National Wildlife Refuge System and/or species at risk. Projects also receive priority if they: were identified as priority by Service ecosystem teams; reduce habitat fragmentation; conserve globally or nationally imperiled habitats; and are self-sustaining. Also take a look at the annual Notice of Availability of Federal Assistance referenced in http://grants.gov.