Partners for Fish and Wildlife
Provide technical and financial assistance to private landowners and Native American Tribes interested in voluntarily restoring or otherwise improving native habitats for fish and wildlife on their lands.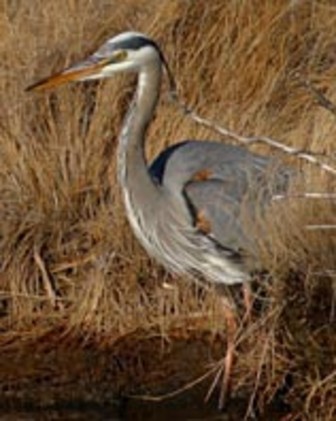 credit: Wikipedia
Related ProgramsExamples of Funded Projects
Typical wetland restoration and enhancement techniques involve restoring the natural hydrology of a site through the blocking of surface ditches, breaking sub-surface drain tiles, building shallow berms to trap water, filling in concentration pits, removing eroded sediment which fills in basins, installing grass buffers, or installing fences along wetlands or stream corridors that prevent cattle grazing within the stream or wetland.

Other wetland enhancement activities include working with the landowners to better manage the wetlands through the use of grazing, haying, discing, and burning.

Upland restoration and enhancement and riparian areas are restored and enhanced through re-seeding or planting native grass, forbs, woody shrubs and trees.

The installation of cross fencing along with providing alternative sources of water, assist landowners develop grassland/grazing management plans that have greater benefits for wildlife.

Removing barriers to fish migration and using natural channel design techniques is the main focus of the Partners Program in-stream restoration work.

Riparian fencing and improved grazing systems compliments stream restoration work.
---
Agency -
Department of the Interior
The Department of the Interior protects and provides access to the Nation's natural and cultural heritage, including responsibilities to Indian tribes and island communities. Departmental goals include resource protection and usage, overseeing recreational opportunities, serving communities and excellence in management.
Office - See http://www.fws.gov/partners for addresses and contact information.
---
Relevant Nonprofit Program Categories
---
Program Accomplishments
In Fiscal Year 2007, the Partners Program helped restore or enhance an estimated: 91,000 acres of wetlands; 420,000 acres of native grasslands and other uplands; 600 miles of riparian corridors, streambanks and in-stream habitats; and 140 fish passage barriers. This was accomplished using 1,850 landowner agreements for fish and wildlife habitat restoration on private lands.
Uses and Use Restrictions
Assistance provided to private landowners (defined to include individuals, local governments, non-government organizations) and Native American Tribes.

Program goal is to achieve a 50 percent cost share on projects with matching funds and in-kind contributions provided by the landowners and other partners.