Research of the Responsible Conduct of Research (RCR)
The purpose of this exploratory/ developmental grant program is to foster research on research integrity in areas that have been inadequately explored.
Priorities include: 1) Evaluating the effectiveness of education and training in the responsible conduct of research (RCR); 2) Identifying mechanisms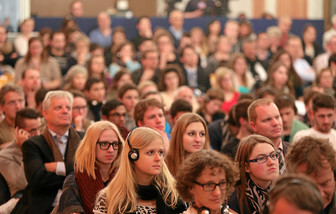 credit: World Economic Forum on Flickr
other than traditional RCR education institutions might effectively employ to foster the responsible conduct of research and discourage misconduct; and, 3) Evaluating factors affecting the behavior of researchers.
---
Agency -
Department of Health and Human Services
The Department of Health and Human Services is the Federal government's principal agency for protecting the health of all Americans and providing essential human services, especially to those who are least able to help themselves.
Office - See Regional Agency Offices.

David Wright, Ph.D., Director
Office of Research Integrity
Office of the Assistant Secretary
Department of Health and Human Services
240-453-8200.
---
Relevant Nonprofit Program Categories
---
Program Accomplishments
Not Applicable.
Uses and Use Restrictions
In the Request for Applications, applicants are asked to address the societal, organizational, group or individual factors that affect integrity in research, both positively and negatively.

Successful projects will be designed to produce clear evidence of problem areas in community standards, self-regulation, practice norms, and non-adherence to accepted codes of conduct, and/or to solutions to these problems.

Funds may not be used for construction or renovation of buildings.

This program is subject to the provisions of 45 CFR 74, and 45 CFR 92 as well as OMB Circular No.

A-102 (Administrative Guidelines for States and Local Governments), and OMB Circular A-110 (Administrative Guidelines for Institutions of Higher Education, Hospitals, and Other Nonprofit Organizations).
Eligibility Requirements
Applicant Eligibility
Public (including city, county, regional, and State government) organizations and private nonprofit entities.
Beneficiary Eligibility
General public.
Credentials/Documentation
Nonprofit organizations must provide evidence of tax-exempt status. When projects involve the collaborative efforts of more than one organization or require the use of services or facilities not under the direct control of the applicant, written assurances of specific support or agreements must be submitted by the affected parties. OMB Circular No. A-87 applies to this program.
Aplication and Award Process
Preapplication Coordination
Preapplication coordination is not applicable.

Environmental impact information is not required for this program.

This program is excluded from coverage under E.O.

12372.
Application Procedures
OMB Circular No. A-102 applies to this program. OMB Circular No. A-110 applies to this program. Applications are submitted in response to specific announcements posted on Grants.gov. All applications must be submitted using the Department of Health and Human Services Standard Form 424. Each announcement provides specific additional instructions regarding the contents of the narrative description of the project, budget justification, and other required information.
Award Procedures
Application will be screened upon receipt. Those that are deemed to be ineligible will be returned to the applicant. Accepted applications will be reviewed and evaluated by a panel of independent experts who make recommendations for action to the Office of Research Integrity. After considering the recommendation of this panel, the Director of the Office of Research Integrity makes the final decision on the funding of applications. All applicants are notified in writing of actions taken on their applications. A Notice of Award is issued for those applications that are approved and funded.
Deadlines
Contact the headquarters or regional office, as appropriate, for application deadlines.
Authorization
The Public Health and Welfare Act, 42 CFR 93.
Range of Approval/Disapproval Time
From 60 to 90 days.
Appeals
Not Applicable.
Renewals
Not Applicable.
Assistance Considerations
Formula and Matching Requirements
Statutory formulas are not applicable to this program.
This program has no matching requirements.
This program does not have MOE requirements.
Length and Time Phasing of Assistance
Grants are generally funded on a 12-month basis. Support beyond the first year is contingent upon acceptable evidence of satisfactory progress, continuing program relevance, and availability of funds. Method of awarding/releasing assistance: by letter of credit.
Post Assistance Requirements
Reports
Program reports are required.

Annual FSR, quarterly and annual programmatic reports describing progress, delays and next steps.

NEW FINANCIAL REPORTING REQUIREMENT Federal Financial Reporting (FFR) SF 425: As of February 1, 2011, the Department of Health and Human Services (DHHS) will begin the transition from use of the SF-269, Financial Status Report (Short Form or Long Form) to the use of the SF-425 Federal Financial Report for expenditure reporting.

SF-269s will no longer be accepted for expenditure reports due after that date.

If an SF-269 is submitted, the Office of the Assistant Secretary for Health, Office of Grants Management will return it and require the recipient to complete the SF-425.

Copies of the SF-425 can be found on the website at: http://www.whitehouse.gov/sites/default/files/omb/assets/grants_forms/SF-425.pdf.

1.

Grantees must submit quarterly Federal Financial Reports due on one of the standard due dates below by which cash reporting is required to be submitted to PMS or at the end of a calendar quarter.

The FFR is due 30 days after the end of each calendar quarter.

2.

Also, grantees must submit an annual Federal Financial Report due 90 days after the end of the budget period/project period end date.

3.

Reports are to be submitted by hard copy or electronically through Grant Solutions to the assigned Grants Management Specialist in the Office of Grants Management.

Please reference the CONTACTS section of the Terms and Conditions for the contact information for these individuals.

Quarterly/Annual Reporting Deadlines Budget Period Due Date: 1st Quarter FFR Due 30-Jan; 2nd Quarter FFR Due 30-Apr; 3rd Quarter FFR Due 30-Jul; 4th Quarter FFR Due 30-Oct; Annual FFR Due 30-Jan.

Quarterly and annual reports describing progress, delays and next steps.

Expenditure reports are not applicable.

Performance monitoring is not applicable.
Audits
In accordance with the provisions of OMB Circular No. A-133 (Revised, June 27, 2003), "Audits of States, Local Governments, and Non-Profit Organizations," nonfederal entities that expend financial assistance of $500,000 or more in Federal awards will have a single or a program-specific audit conducted for that year. Nonfederal entities that expend less than $500,000 a year in Federal awards are exempt from Federal audit requirements for that year, except as noted in Circular No. A-133.
Records
HHS and the Comptroller General of the United States or any of their authorized representatives, shall have the right of access to any books, documents, papers, or other records of a grantee, subgrantee, contractor, or subcontractor, which are pertinent to the HHS grant, in order to make audits, examinations, excerpts and transcripts. In accordance with 45 CFR, Part 74.53 and 45 CFR, Part 92, grantees are required to maintain grant accounting records 3 years after the end of a project period. If any litigation, claim, negotiation, audit or other action involving the records has been started before the expiration of the 3-year period, the records shall be retained until completion of the action and resolution of all issues which arise from it, or until the end of the regular 3-year period, whichever is later.
Financial Information
Account Identification
75-0120-0-1-551.
Obigations
(Project Grants (Discretionary)) FY 12 Not Seperately Identifiable(Exp: 2013 is first funded year ); FY 13 est $1,300,000; and FY 14 Estimate Not Available - Obligations are for discretionary grants to explore research misconduct.
Range and Average of Financial Assistance
3 - 4 Grant Awards at $200,000 - $300,000 per year for a 2 year project period.
Regulations, Guidelines, and Literature
Not Applicable.
Information Contacts
Regional or Local Office
See Regional Agency Offices. David Wright, Ph.D., Director
Office of Research Integrity
Office of the Assistant Secretary
Department of Health and Human Services
240-453-8200.
Headquarters Office
Brenda C. Donaldson Tower Building
1101 Wootton Parkway, Suite 550, Rockville, Maryland 20852 Email: Brenda.Donaldson@hhs.gov Phone: 240-453-8442
Criteria for Selecting Proposals
Eligible applications will be assessed according to the following criteria:
Reviewers will consider each of the review criteria below in the determination of scientific merit, and give a separate score for each. 1) Significance of the proposed project; 2) Investigator(s) capacity for doing the project; 3) Innovation; 4) Approach; 5) Final product proposed at end of project; and, 6) Budget.