The Bureau of Justice Statistics (BJS) is seeking proposals to support the Criminal History Record Assessment and Research Program (CHRARP).
This statistical program furthers BJS's mission to produce accurate and timely information on the recidivism and criminal histories of offenders.
The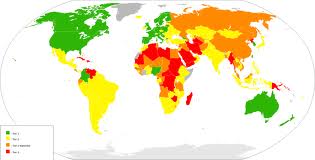 credit: Wikipedia
recipient of funds will transform automated criminal history records from all 50 states, the District of Columbia, and the FBI into databases that support statistical research and studies on the offending patterns of various cohorts of individuals.
The recipient of funds will 1) prepare and maintain an integrated set of computer code that converts the state- and federal-specific fields in the criminal history records into research databases with standardized codes defined by BJS; 2) generate a series of research databases, including technical assistance in the design of sampling frames and sampling weights; 3) design and implement a quality assurance system to validate the conversion of criminal history information into these research databases; 4) provide BJS with a set of analyses of each research database based on BJS's specifications; 5) work with BJS to determine how variations in the content and completeness of the criminal history information maintained by the FBI and state repositories affect the nationally standardized research databases; and 6) and propose methods to compensate for these attributes when analyzing the research databases.