The Administration for Children and Families (ACF) announces the Early Head Start University Partnership Grants:
Buffering Children from Toxic Stress.
These grants fund research activities to implement promising parenting interventions which augment ongoing Early Head Start services, in order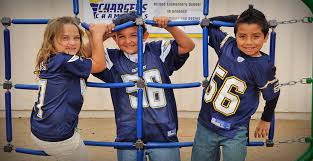 credit: Chargers
to improve outcomes for the most vulnerable infants and toddlers.
The purpose of this announcement is to report the availability of grant projects to promote knowledge of how Early Head Start programs can buffer children from the effects of toxic stress by supporting parenting/caregiving.
Grantees will be required to demonstrate a partnership or partnerships with Early Head Start programs as an integral part of the research plan development and execution.
They will implement a promising parenting interventions model, augmenting existing Early Head Start services, for those children and families at the highest levels of stress.
The evaluation component will include a validation of the selected risk factors as indicating a risk for toxic stress, an implementation study of the parenting intervention, as well as a rigorous test of the effectiveness of the intervention.
While many caregiving relationships can provide buffering effects, the focus of this announcement is on the parental (or primary caregiver, foster parent, or guardian if biological parents are not available) relationship.
---
Relevant Nonprofit Program Categories
---
---
---
---
Obtain Full Opportunity Text:
http://www.acf.hhs.gov/grants/open/foa/view/HHS-2011-ACF-OPRE-YR-0204
Additional Information of Eligibility:
In addition, ACF encourages the following to apply: Tribally Controlled Colleges and Universities, defined in 25 U.S.C.
§ 1801(a)(4), and other institutions that qualify under the Tribally Controlled Community College Assistance Act of 1978 (25 U.S.C.
§ 1801 et seq.), and the Navajo Community College, referred to in the Navajo Community College Assistance Act of 1978 (25 U.S.C.
§ 640a).
Historically Black Colleges and Universities and other institutions covered under the definition of Part B institutions under 20 U.S.C.
§1061(2)." Hispanic Serving Institutions (HSI) as defined under 20 U.S.C.
§ 1101a(a)(5).
Institutions must apply on behalf of researchers who hold a doctorate degree or equivalent in their respective fields.
The Principal Investigator (PI) must conduct research as a primary professional responsibility and have published or been accepted for publication in the major peer-reviewed research journals in the field, as a first author.
Applicant organizations may submit more than one application, on behalf of more than one researcher, subject to the qualifications listed in this section.
Though a researcher can serve as a PI on more than one application, only one of these applications may receive funding.
The application must contain the original copy of a letter or letters from the Early Head Start programs certifying that they have entered into a research partnership(s) with the applicant, and a separate letter certifying that the application has been reviewed and approved by the relevant Program Policy Council.
This certification of approval or pending approval by the Policy Council must also be the original letter from the official representative of the Policy Council itself.
See Section IV.2 for further information.
Faith-based and community organizations that meet eligibility requirements are eligible to receive awards under this funding opportunity announcement.
Individuals, foreign entities, and sole proprietorship organizations are not eligible to compete for, or receive, awards made under this announcement.
Full Opportunity Web Address:
http://www.acf.hhs.gov/grants/open/foa/view/HHS-2011-ACF-OPRE-YR-0204
Contact:
ACF Applications Help Deskapp_support@acf.hhs.gov
Agency Email Description:
ACF Applications Help Desk
Agency Email:
app_support@acf.hhs.gov
Date Posted:
2011-05-19
Application Due Date:
2011-07-18
Archive Date:
2011-12-23