Circulation in the GOM is dominated by the Loop Current (LC) and by Loop Current eddies (LCEs) that form at irregular multi-month intervals by separation from the LC.
Comparatively small cyclonic eddies (CEs) are thought to have a controlling influence on the LCE, including its separation from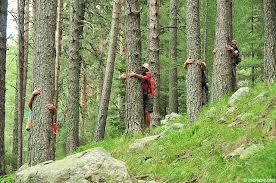 credit: Flickr
the LC.
Because the CEs are so dynamic and short-lived, lasting only a few weeks, they have proved a challenge to observe and to numerically simulate.
The spatial scale of these eddies can be 20 km or less.
With such small spatial scale, it is essential to have an ocean model that has sufficient spatial resolution to describe the LC and LCEs with confidence.
Accurate representation of the ocean dynamics in ocean models advecting the oil particles is crucial for simulating of the oil trajectories, since location of mesoscale features largely determines local surface oil transport.
This is also important for understanding ecological connectivity, adaptability, and changes of critical deep communities that are commonly found in regions with substantial small-scale topographic variability.
The purposes of this study include enhancing the Hybrid Coordinate Ocean Model (HYCOM) with a high grid resolution of 1/100o.
The numerical schemes of the model should also be carefully examined to ensure that the high resolution and the schemes are consistent with each other.
Statistical tools should be used for model verification and validation.
This study will examine interactions of the vertical circulation with the sub-surface hydrography and horizontal circulation fields.
The goal is to provide information on the potential lateral displacement and sub-surface transport of oil released at depth.
It will perform a 20-year simulation using a 1/100°-resolution HYCOM configuration of the GOM with accurate bathymetry and enhanced vertical resolution compared to the presently available 1/25°-resolution HYCOM hindcast.
The 20-year HYCOM model results will then be delivered to BOEM for OSRA applications in the GOM.
BOEM needs better and more accurate information on ocean currents and eddy occurrence, travel trajectories, and general dynamics in the GOM.
Results from this study will expand BOEM's ability to assess oil spill risks in the GOM and improve its ability to estimate oil spill trajectories.
The output of this study will be directly used in the BOEM OSRA applications.
The improved currents will enhance the accuracy of OSRA model results and help us understand the impact of spatial resolution on the performance of OSRA model.
The funding for this study will cover the costs of labor, computer time, travel, publication, and administration