Yakima River Basin Water Enhancement Project (YRBWEP)
Within the Yakima River Basin: (1) to protect, mitigate, and enhance fish and wildlife through improved water management; improved instream flows; improved water quality; protection, creation and enhancement of wetlands; and by other appropriate means of habitat improvement; (2) to improve the reliability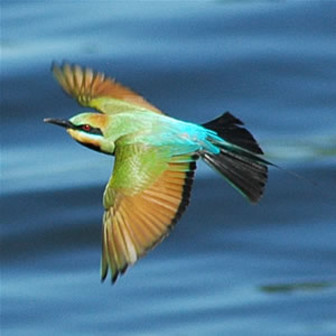 credit: Wikipedia
of water supply for irrigation; (3) to authorize a Yakima River basin water conservation program that will improve the efficiency of water delivery and use; enhance basin water supplies; improve water quality; protect, create and enhance wetlands, and determine the amount of basin water needs that can be met by water conservation measures; (4) to realize sufficient water savings from the Yakima River Basin Water Conservation Program so that not less than 40,000 acre-feet of water savings per year are achieved by the end of the fourth year of the Basin Conservation Program; (5) to encourage voluntary transactions among public and private entities which result in the implementation of water conservation measures, practices and facilities; and (6) to provide for the implementation by the Yakima Indian Nation at its sole discretion of (A) an irrigation demonstration project on the Yakima Indian Reservation using water savings from system improvements to the Wapato Irrigation Project, and (B) a Toppenish Creek corridor enhancement project integrating agricultural, fish, wildlife, and cultural resources.
Examples of Funded Projects
Development/Updating of Water Conservation Plan, Conduct Feasibility Study of Measures Identified in Water Conservation Plan, Implementation of Water Conservation Measures.
---
Agency -
Department of the Interior
The Department of the Interior protects and provides access to the Nation's natural and cultural heritage, including responsibilities to Indian tribes and island communities. Departmental goals include resource protection and usage, overseeing recreational opportunities, serving communities and excellence in management.
Office - James A.

Esget, YRBWEP Manager, 1917 Marsh Rd., Yakima, WA 98901.

Telephone: (509) 575-5848 Ext.

267, Fax: (509) 454-5611, E-mail: jesget@pn.usbr.gov.
---
Relevant Nonprofit Program Categories
---
Program Accomplishments
In FY 2006, SDBOC will continue their improvement projects and an award to The Benton Irrigation District is expected to be finalized for an implementation grant to launch a multi-year project to improve their water delivery systems.
Uses and Use Restrictions
To participate in the Conservation Basin Program an entity must submit a proposed water conservation plan to the Secretary of the Interior.

Assistance is limited to those entities (districts, irrigation districts, individuals, or other entities) that equip all surface water delivery systems within their boundaries with volumetric water meters or equally effective water measuring methods within five years of the date of enactment of this Act.

The Yakima Nation is not included in the provisions of this, Section 1203, except as to any funds specifically applied for from the Basin Conservation Program.

The Secretary of the Interior may use appropriated funds to purchase, or lease, land, water, or water rights from an entity or individual willing to limit or forego water use on a temporary or permanent basis.

Funds used for purchase or lease under this paragraph are not subject to the cost sharing provisions of Section 1203(d).
Eligibility Requirements
Applicant Eligibility
State of Washington, and Federally Recognized Indian Tribal Governments, water and irrigation districts, and water rights owners located in the project area.
Beneficiary Eligibility
Anyone/General Public, Intrastate, Local, Individual/Family, and Federally Recognized Indian Tribal Governments within the project area.
Credentials/Documentation
Eligible entities must submit a proposal to develop a Water Conservation Plan. Once the Water Conservation Plan has been developed it is to be submitted to the Bureau of Reclamation, Pacific Northwest Region, Upper Columbia Area Office, in accordance with the information included in the funding opportunity announcement that will be posted at www.grants.gov. Only entities with approved Water Conservation Plans are eligible for consideration for feasibility studies. Only entities with an approved Water Conservation Plan and approved feasibility study are eligible for potential implementation of conservation measures.
Aplication and Award Process
Preapplication Coordination
None.

This program is excluded from coverage under E.O.

12372.
Application Procedures
Funding opportunity announcements for this program, along with registration procedures, application packages and instructions, SF-424 forms and any other forms to be used to submit application information, points of contact, and procedures for submitting applications will be available on www.grants.gov.
Award Procedures
All applications will be initially screened for eligibility and compliance with the requirements stated in the program funding announcement. Applications passing this screening process will be forwarded for review by a proposal evaluation panel comprised of personnel from the Bureau of Reclamation, Pacific Northwest Regional Office, who are qualified experts in the program area. Applications will be reviewed against the proposal evaluation criteria, and any additional review factors, as stated in the funding announcement. Final selection will be determined by the Commissioner, Bureau of Reclamation, or regional officials, as applicable to the project. Entities meeting the basic criteria for participation in the YRBWEP must enter into a cost sharing agreement prior to beginning project work.
Deadlines
Varies by project. Deadline information will be included in all funding opportunity announcements posted on www.grants.gov.
Authorization
Yavapai-Prescott Indian Tribe Water Rights Settlement Act of 1994, Title XII,Yakima River Basin Water Enhancement Project, Public Law 103-434.
Range of Approval/Disapproval Time
Varies depending on the type and complexity of the project. Further information will be available for each specific project at the time the funding opportunity announcement is posted on www.grants.gov and may be obtained by contacting the Reclamation personnel listed as the point of contact in the funding announcement.
Appeals
None. Final award decisions are not subject to appeal; however, the Bureau of Reclamation will provide all applicants with information on why their proposals were not selected for award.
Renewals
None.
Assistance Considerations
Formula and Matching Requirements
Unless otherwise stated in the Act: (1) Development of water conservation plans 50 percent nonFederal share, but not more than $200,000 per recipient; (2) Investigation of specific water conservation measures 50 percent State share and 20 percent local share, but sum of (1) and (2) shall not be greater than $200,000 per recipient; (3) and (4) Implementation and post implementation monitoring and evaluation 17.5 percent State share, and 17.5 percent local share.(Section 1203(d)).
Length and Time Phasing of Assistance
Agreements are normally written for a 1 to 5 year period. Implementation agreements may be written to cover the period estimated in the approved Water Conservation Plan and Feasibility Study.
Post Assistance Requirements
Reports
Unless otherwise stated in the agreement document, recipients shall submit the following reports on a quarterly basis: (1) SF-269/SF-269a Financial Status Reports, (2) SF-272 Report of Federal Cash Transactions, and (3) Program performance reports.

Annually, recipients shall submit an annual program performance report.

Upon completion of the agreement, recipients shall submit a final: (1) SF-269/SF-269a Financial Status Report, (2) final program performance report, and (3) other specific reports that may be applicable to the agreement such as property inventories, and patent and invention disclosures.
Audits
In accordance with the provisions of OMB Circular No. A-133 (Revised, June 27, 2003), "Audits of States, Local Governments, and Nonprofit Organizations," nonfederal entities that expend financial assistance ($500,000 for fiscal years ending after December 1, 2003) or more a year in Federal awards will have a single or a program specific audit conducted for that year. Nonfederal entities that expend less than ($500,000 for fiscal years ending after December 1, 2003) a year in Federal awards are exempt from Federal audit requirements for that year, except as noted in Circular No. A-133.
Records
State, local and Indian Tribal governments shall maintain project records in accordance with 43 CFR 12.82. All other recipients shall maintain project records in accordance with 43 CFR 12.953.
Financial Information
Account Identification
14-0680-0-1-301.
Obigations
FY 07 $9,865,864; FY 08 est $6,500,000; and FY 09 est $8,000,000.
Range and Average of Financial Assistance
Range from $5,000 to $21,000,000; Average $6,557,087.
Regulations, Guidelines, and Literature
43 CFR 12, http://www.access.gpo.gov/nara/cfr/cfr-table-search.html#page1; OMB Circulars, http://www.whitehouse.gov/omb/grants/grants_circulars.html; these documents may also be obtained by contacting the Reclamation Office listed below.
Information Contacts
Regional or Local Office
James A. Esget, YRBWEP Manager, 1917 Marsh Rd., Yakima, WA 98901. Telephone: (509) 575-5848 Ext. 267, Fax: (509) 454-5611, E-mail: jesget@pn.usbr.gov.
Headquarters Office
None.
Criteria for Selecting Proposals
Specific evaluation criteria will be included in the funding announcements posted on www.grants.gov. Initial selection based on projects that would meet/fulfill the objectives of YRBWEP. After Water Conservation Plans are approved, feasibility studies are approved for those projects/measures that appear to result in the greatest benefit to YRBWEP. Implementation awards are based on those that are the most cost effective and result in the greatest water savings.