Research on Healthcare Costs, Quality and Outcomes
To support research and evaluations, demonstration projects, research networks, and multidisciplinary centers and to disseminate information on health care and on systems for the delivery of such care involving: (1) The quality, effectiveness, efficiency, appropriateness and value of health care services;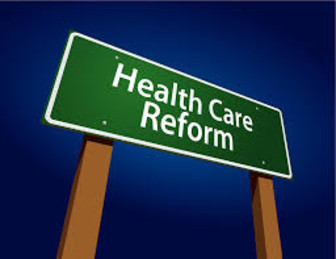 credit: Tom Copeland Blog
(2) quality measurement and improvement; (3) the outcomes, cost, cost-effectiveness, and use of health care services and access to such services; (4) clinical practice, including primary care and practice-oriented research; (5) health care technologies, facilities and equipment; (6) health care costs, productivity, organization, and market forces; (7) health promotion and disease prevention, including clinical preventive services; (8) health statistics, surveys, database development, and epidemiology; and (9) medical liability.

In support of this research, the Agency has a special interest in health care and its delivery in the inner city, in rural areas, and for priority populations (low-income groups, minority groups, women, children, the elderly, and individuals with special health care needs).
Related ProgramsExamples of Funded Projects
(1) Centers for Education and Research on Therapeutics; (2) Primary and Secondary Prevention of CHD and Stroke; (3) Improving Pain Management in Nursing Homes; (4) Optimizing Antibiotic Use in Long-Term Care; (5) Improving the Delivery of Effective Care to Minorities; (6) Risk-Adjustment of 1-Year Health Status Outcomes in CAD; (7) Impact of Early Discharge Following Bypass Surgery; (8) Smoking Control in MCH Clinics: Dissemination Strategies; (9) Benefits of Regionalizing Surgery for Medicare Patients.
---
Agency -
Department of Health and Human Services
The Department of Health and Human Services is the Federal government's principal agency for protecting the health of all Americans and providing essential human services, especially to those who are least able to help themselves.
---
Relevant Nonprofit Program Categories
---
Program Accomplishments
In fiscal year 2007, 296 grants were provided to universities, hospitals, nonprofit private agencies, State agencies, local government agencies and individuals to conduct health services research and demonstration projects. In fiscal year 2008, it is estimated that approximately 213 grants will be provided to similar organizations and individuals for the support of extramural health services research and demonstration and dissemination projects. In fiscal year 2009, it is estimated that approximately 152 grants will be provided to similar organizations and individuals.
Uses and Use Restrictions
The research should contribute to the health services knowledge base from which empirically based information can be derived by policymakers, both immediately and over the coming decades.

Grants include funds for direct costs (such as personnel, travel, equipment, or supplies) necessary to carry out an approved project as well as funds for the reimbursement of applicable facilities and administrative costs.

Unallowable costs, as well as those for which prior written approval is required, are indicated in the PHS Grants Policy Statement.

Discretionary funds are available.
Eligibility Requirements
Applicant Eligibility
Federal, State or local government agencies, federally-recognized Indian Tribal Governments, U.S.

Territories, sponsored organizations, non-government organizations, minority groups, specialized groups, public or private institutions of higher education, and other public or nonprofit private agencies, institutions, or organizations.

Research project grants may also be awarded to individuals.

For-profit organizations are eligible to apply for these grants only if "cooperative agreement" is the designated funding mechanism.

Organizations described in section 501(c)4 of the Internal Revenue Code that engage in lobbying are not eligible.
Beneficiary Eligibility
Federal, State or local government agencies, federally-recognized Indian Tribal Governments, public or private nonprofit institutions, U.S. territories, Native American organizations, sponsored organizations, consumers, students, minority groups, specialized groups, health or education professionals, individuals, scientist/researchers, and the general public.
Credentials/Documentation
Nonprofit organizations must submit proof of their nonprofit status when applying for grants. Costs will be determined in accordance with DHHS Regulations 45 CFR 74.
Aplication and Award Process
Preapplication Coordination
There is no program requirement for preapplication.

Informal preapplication consultation to prospective applicants is available upon request, but is not required.

This program is excluded from coverage under E.O.

12372.
Application Procedures
Applications must be submitted in response to a Funding Opportunity Announcement (FOA). All FOAs are posted on www.Grants.gov. Refer to the FOA of interest for specific requirements regarding the application procedure as AHRQ is in the process of transitioning to the new SF-424 Research and Related (R&R) grant application form and to electronic submission through www.Grants.gov for competing awards. For FOAs that have not yet been transitioned to electronic submission through Grants.gov, nongovernmental applicants should submit using Form PHS-398 (Rev. November 2007); State and local governments may submit using the standard application forms, as furnished by PHS and required by 45 CFR Part 92. For State agencies, no State Plan is required. Applications are reviewed and evaluated by a group composed primarily of nonfederal scientists. The review is conducted by a panel of experts in the specific study area proposed. This program is subject to the provisions of 45 CFR Part 92 for State and local governments and OMB Circular No. A-110 for nonprofit organizations.
Award Procedures
Following review for scientific merit by a group composed primarily of nonfederal scientists, grant applications may be reviewed by the National Advisory Council for Healthcare Research and Quality, after which AHRQ makes final decisions to support approved applications. When such decisions are made, applicants are notified directly by AHRQ staff and all required steps are taken to issue the Notice of Grant Award.
Deadlines
Deadlines for new grants vary by program and mechanism. Refer to www.Grants.gov and the specific FOA to which you plan to apply.
Authorization
42 U.S.C. 299 ff., Title IX of the Public Health Service Act.
Range of Approval/Disapproval Time
From 6 to 9 months from receipt of application.
Appeals
None.
Renewals
If additional support is desired to continue a project beyond the approved project period, an application for competing continuation must be submitted for review in the same manner as a new application.
Assistance Considerations
Formula and Matching Requirements
None.
Length and Time Phasing of Assistance
Grants may be approved for project periods up to 5 years. Awards are made on an annual basis and it is expected that obligations will be made within the budget period awarded. After awards are issued, funds are released in accordance with the payment procedure established by the grantee institution with DHHS, which may be an Electronic Transfer System or a Monthly Cash Request System.
Post Assistance Requirements
Reports
Progress reports are required on an annual basis.

Financial Status Reports must be submitted within 90 days after the end of each budget period.

Inventions are to be reported immediately.

A terminal progress report must be submitted within 90 days after the end of a project.
Audits
In accordance with the provisions of OMB Circular No. A-133 (Revised, June 27, 2003), "Audits of States, Local Governments, and Nonprofit Organizations," nonfederal entities that expend $500,000 or more in Federal awards will have a single or a program-specific audit conducted for that year. Nonfederal entities that expend less than $500,000 a year in Federal awards are exempt from Federal audit requirements for that year, except as noted in Circular No. A-133. In addition, grants and cooperative agreements are subject to inspection and audits by DHHS and other Federal government officials.
Records
Records must be retained for at least three years; records shall be retained beyond the three year period if audit findings have not been resolved.
Financial Information
Account Identification
75-1700-0-1-552.
Obigations
(Grants) FY 07 $80,274,536; FY 08 est $73,127,391; and FY 09 est $64,557,046.
Range and Average of Financial Assistance
$9,989 to $1,482,711; $261,674. These are total cost figures (direct plus associated facilities and administrative costs if appropriate).
Regulations, Guidelines, and Literature
42 CFR 67, Regulations for Grants for Health Services Research, Evaluation, Demonstration, and Dissemination Projects as amended by Public Law 106-129; PHS Grants Policy Statement, DHHS Publication No. (OASH) 94-50,000 (Rev.) April 1, 1994.
Information Contacts
Regional or Local Office
None.
Headquarters Office
Agency for Healthcare Research and Quality, Department of Health and Human Services, 540 Gaither Road, Rockville, MD 20850. Program Contacts: Improving Health Outcomes and Evidence-based Practice and Technology Assessment, Jean Slutsky, Director, Center for Outcomes and Evidence (Telephone: (301) 427-1600); Quality of Care, William Munier, MD, Director, Center for Quality Improvement and Patient Safety (Telephone: (301) 427-1349); Primary Care, David Myers, MD, Director, Center for Primary Care Prevention and Clinical Partnerships (Telephone: (301) 427-1500); Cost and Financing, Steven Cohen, PhD, Director, Center for Financing, Access, and Cost Trends (Telephone: (301) 427-1406); Organization, Delivery, and Markets, Irene Fraser, PhD, Director, Center for Delivery, Organization, and Markets (Telephone: (301) 427-1410); Grants Management Contact: Joan Metcalfe, Grants Management Officer (Telephone: (301) 427-1447). Use the same number for FTS.
Criteria for Selecting Proposals
The proposals must first be reviewed by review groups of peers and recommended for approval on the basis of scientific and technical merit. This includes consideration of the qualifications of the principal investigator and staff to conduct the research using appropriate methodology and budget. Applications may be reviewed for program relevance by the National Advisory Council for Healthcare Research and Quality. Those approved proposals which are most relevant to the identified program priority issues of the AHRQ are funded to the extent that funds are available.