The ONR seeks proposals for developing innovative solutions that directly support the development and maintenance of a robust STEM workforce.
The goal of any proposed effort should be to provide "game changing" solutions that will establish and maintain a diverse pipeline of U. S. citizens who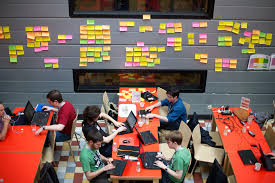 credit: Wikimedia Commons
are interested in uniformed or civilian DoN (or Navy and Marine Corps) STEM related workforce opportunities.
While this announcement is relevant for any stage of the STEM pipeline, for FY15, funding efforts will be targeted primarily towards High School, Post-Secondary education, and outreach designed to enhance the DoN (or Naval) STEM workforce and its mission readiness.
Emphasis will be given both to key engineering and scientific areas outlined in the Naval S&T Strategic Plan such as our National Naval Responsibilities (see ONR website), and to identified STEM related workforce gaps and new strategic goals on the uniformed and civilian side.
The FULL ANNOUNCEMENT is available on the Grants.gov website.
---
---
---
---
Obtain Full Opportunity Text:
Link to all ONR BAA/FOAs
Additional Information of Eligibility:
All responsible sources from academia, the nonprofit sector, and industry may submit proposals under this FOA.
Federally Funded Research & Development Centers (FFRDCs), including Department of Energy National Laboratories, are not eligible to receive awards under this FOA.
However, teaming arrangements between FFRDCs and eligible principal bidders are allowed so long as they are permitted under the sponsoring agreement between the Government and the specific FFRDC.
DoN laboratories and warfare centers as well as other Department of Defense and civilian agency laboratories are also not eligible to receive awards under this FOA and should not directly submit either white papers or full proposals in response to this FOA.
If any such organization is interested in the program described herein, the organization should contact ONR STEM Program Office, onr_stem@navy.mil, to discuss potential projects.
As with FFRDCs, these types of Federal organizations may team with other responsible sources from academia, non-profits, and industry that are submitting proposals under this FOA.
University Affiliated Research Centers (UARC) are eligible to submit proposals under this FOA unless precluded from doing so by their Department of Defense UARC contracts.
Full Opportunity Web Address:
http://www.onr.navy.mil/en/Contracts-Grants/Funding-Opportunities/Broad-Agency-Announcements.aspx
Contact:
Darnell GriffinContract Specialist Phone 7036962942
Agency Email Description:
Grants.gov only
Agency Email:
darnell.griffin@navy.mil
Date Posted:
2014-10-21
Application Due Date:
2015-01-23
Archive Date:
2015-10-01